The Crystal Ball was made by Haaga-Helia Unversity of Applied Sciences, enabled by Headai and Stereoscape. The idea behind it is, that Haaga-Helia wants to catch and engage millions of people at the Dubai World Expo's Finland Pavilion for 30 seconds and show how it can open doors for future careers. The solution was supposed to be at the Dubai 2020 World Expo last year but the whole event was postponed from the original schedule to this autumn, due to the COVID-19 pandemic.
The solution connects individuals, companies, education, and labor markets by utilizing Headai's Cognitive artificial intelligence. It is a great example of AI-powered monitoring and development of the university curricula. With AI, it is possible to anticipate the future needs of different industries and teach the right subjects and skills. See the Crystal Ball in action on the video:
Haaga-Helia University of Applied Sciences
Haaga-Helia University of Applied Sciences offers career-focused programmes with strong industry and business links. Learning methods engage students in real projects for corporations and businesses. There are a total of 10 500 students and 640 employees.

Pasi Tuominen, Project director at Haaga-Helia University of Applied Sciences, describes the Crystal Ball solution:

Even though the solution covered a complex theme with data analytics, the implementation progressed really smoothly. Headai made it clear to us what was the AI's role and which were our tasks. Working with Headai was easy and effortless.
–Pasi Tuominen, Project Director at Haaga-Helia University of Applied Sciences
The solution will be discussed at the World Expo Finland's Education Forum on Monday 12.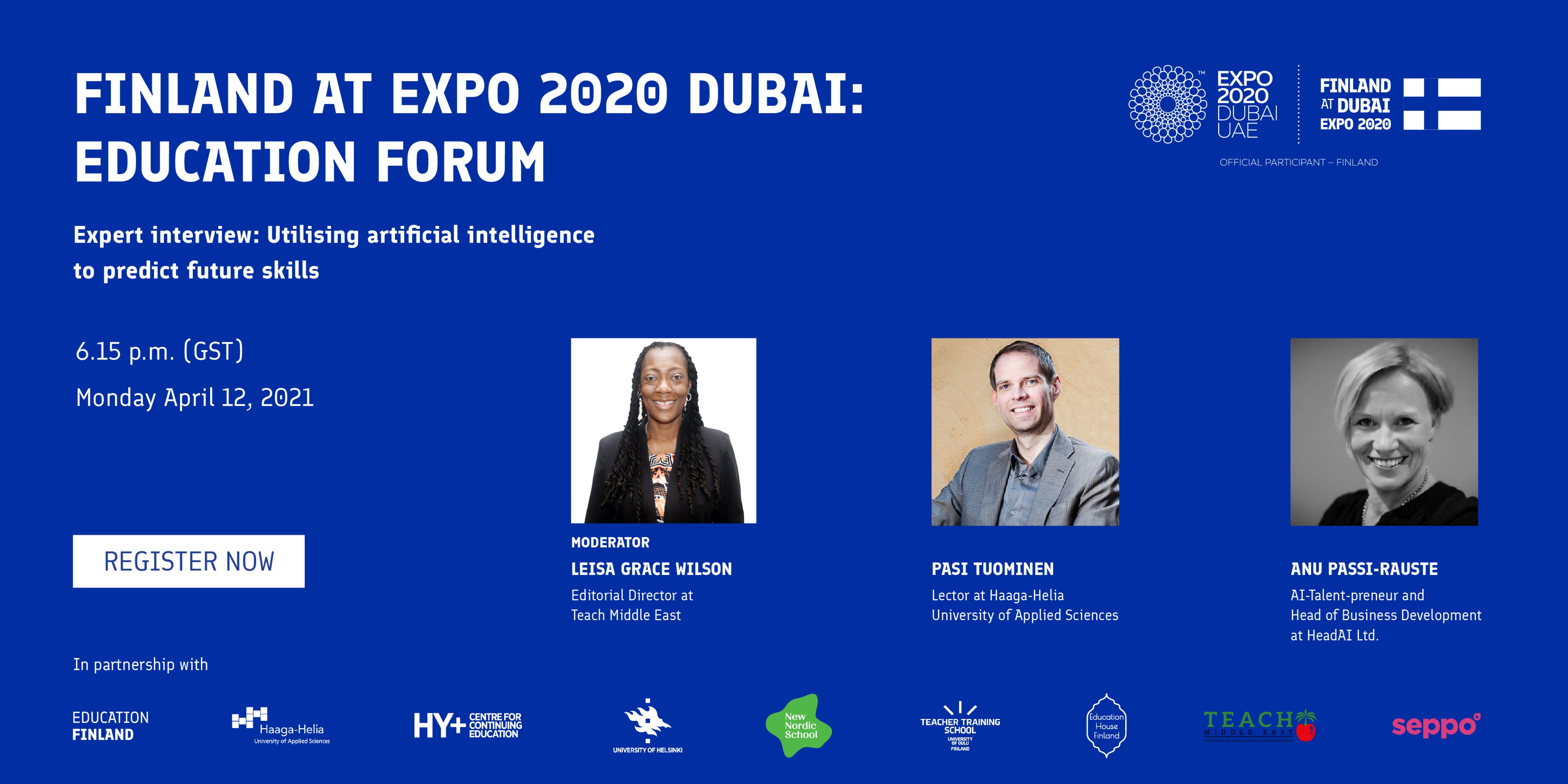 What does the Crystal Ball Reveal?
It is based on labor market data that covers five cities around the world: Helsinki, Austin, Dubai, Singapore, and Nairobi, and consists of tens of thousands of job ads from 12 months period. The Crystal Ball enables digging into 5 profiles/professions and simulating them with the skills that can be learned from five education programs of Haaga-Helia UAS. Finally, the whole globe hologram can be discovered to find jobs and the skill sets related to them. All in all, the Crystal Ball connects education, skills, jobs, and archetype roles in an interesting way.
The Solution
HeadAI created an AI-empowered simulation of skills, competencies, personalities needed in different positions/jobs. This simulation was cross-referenced with Haaga-Helia UAS educational offering, hence the variety of diplomas and degrees preparing students for hundreds of different jobs and fields. HeadAI discovered open vacancies in 10 major cities in the world. The visualizations were build using The Dreamoc, which gives an illusion of the science fiction hologram. A globe (crystal ball) with recognizable details of chosen major cities. Selected "skills set" and "employer profile" pops out in different areas according to the demand (open vacancies).
Want to see Chrystal Ball? It starts its journey to Dubai in May 2021 and is waiting for millions of visitors at Finland Pavilion. Hope to see you there too, welcome!
---
Watch the breathtaking Dubai Expo trailer:
---
About Headai
Headai is a Finnish technology company developing Cognitive Artificial Intelligence for enabling data flows and predictive simulations inside the skills data ecosystem.
Our tech makes skills measurable and helps every one to get rid of the skills gap: maximize your labor market value, maximize your company's skills asset value, maximize your curriculum's business & industry value.
Everything 100% Headai IP, based on over 20 years of experience in the cognitive and computational sciences.
Follow Headai